The Pathfinders have distinguished themselves as an elite defensive squad. They are made of talented team oriented players. Who are these players? Who are you fighting against, beside, and with?
Here begins the first of a series of player profiles of The Pathfinders.
Game name: xohorvath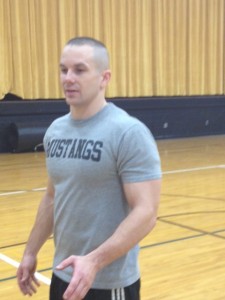 Location: Near Detroit, MI.
Occoupation: Xo has been teaching and coaching at a Christian high school for 12 or 13 years. He has coached soccer, basketball, and wrestling.
Family: Xo is married with two children, who both excel at the ages of 4 and 5 at the rear naked choke.
Hobbies: Athletics, WW2 online, fitness and weight training, and Christian theology/apologetics.
Years in game: Xo initially found the game and shared it with his brother, pfmosquito back in 2001. Initially, Xo preferred the faster more shoe-box games of Rainbow Six and the like. Technically then, pfmosquito played before Xo. Xo played for about a year or so as a lone wolf, often times working together with the 101st squad (pfmosquito's first squad). Two years ago, Xo decided to give the game ago.
Preferred unit: It should be no surprise to anyone that Xo's weapon of destruction is the smg. He prefers the French Smg. Back in 2001/2002 Xo exclusively used tanks and was in the top 3 of all tankers back in the day.
Game Accomplishments: Top Smg player for two or three campaigns in a row, DOIC award, player of the week award, player of the campaign award, william wallace award, infantry ribbon, defensive ribbon. All awards can be see on the forum.
Achievements: Marathon, Masters in Theology